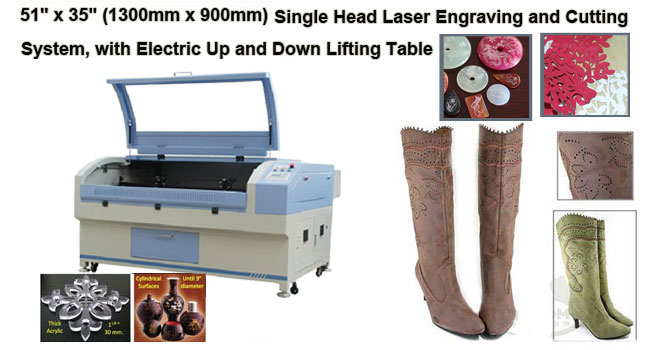 Large worktable (51" x 35"x 10") and rear pass-thru allows easy the loading of materials such as bulk rolls or full 4' x 8' or 4'x10' sheets.
Reason why we can offer you the most convenient price of the market, 1 year of the best warranty and the faster shipping of any spare part and technical support.
The high quality, RELIABILITY AND PROFITABILITY of our CM1309SHB is supported by our Research and Development Department with more than 30 expert engineers, masters and doctors in physics and electronic sciences of the laser technology and manufactured in accordance with the programs QB / T1700-2001 and ISO9001: 2000.
With laser tubes of 130 Watts, this laser engraving and cutting machine is the best if you need high quality and high speed cutting and engraving on an area of 51 x 35 inches. Also, it can engrave pieces until 20 inches of height or cylindrical surfaces until 9 inches of diameter.


1. The Most Profitable Work Area
(1) Honeycomb to cut thinnest material (fabric, leather and paper, etc.)
(2) Stripped to cut hard and inflammable materials (acrylic, wood and foam, etc.) and getting the cleanest edge cut.
The Up / Down work table can fit pieces of 10" deep. Also, you can remove both worktable and reaching 20" deep. It is powered by two motor up / down worktable with speed control, it can load 200 pound.

Effective work area: 51 x 35 x 10 inches.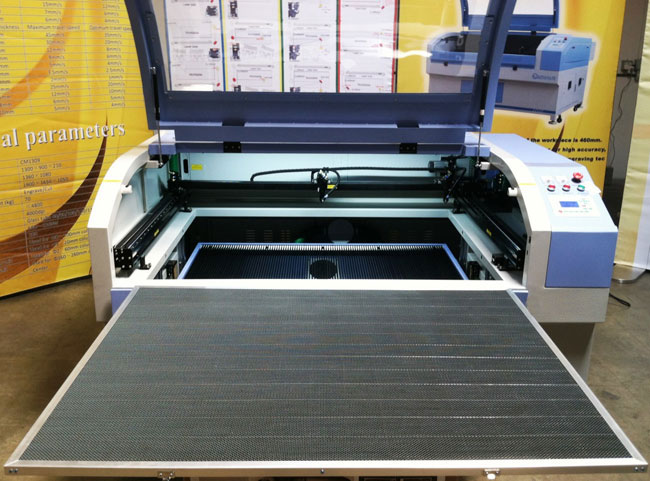 2. Single Laser Tube



Laser tube 130W RC - KT: Real power to cut until 1" -1.18" (30 mm.) thick acrylic - more than any other laser machine - and taking in advantage the high speed of servo motors.
Our laser tube 130W RC - KT is manufactured by us and our technology to get until 10,000 working hours and the replacement is just about $800.00; this means you are paying just $0.62 per Kilowatts by hour, better than any other.
Emits a perfect laser beam. Easier alignment system, the laser tube lies up on stable and adjustable stands.
Protection system to avoid spark that is better than others.

3.Two Large Worktable - Motorized Up/Down X:51"- Y:35"- Z:10"
Taking advantage of its intelligent Japanese SERVO MOTORS and powerfull laser tube of 130W each, this is the best laser machine for cutting and engraving on high quality and high speed on 51" x 35" effective work area, its motorized up/down worktable allows placing pieces up to 10". Also, its rotary attachment can engrave cylindrical surfaces until 8"of diameter.Its technology and power guarantee making cuts up to 1+1/4"(30 mm.) acrylic in single pass… better and faster than others similar in the market.

ROTARY ATTACHMENT - head with clamping grippers - system to engrave curve surfaces until 8" diameter… better and faster than others similar in the market. Rear pass through window to work with whole sheet of acrylic, MDF, foam,wood, plywood,etc. – as well as bulk rolls of fabric, leather, cardboard, etc.
Ample two work table sets X:51" Y:35" Z:10": One (1) honeycomb to cut thin material (fabric, paper…) and other (1) with thin strips metal to cut hard and inflammable materials (acrylic, wood, foam...). Gets the cleanest edge cut.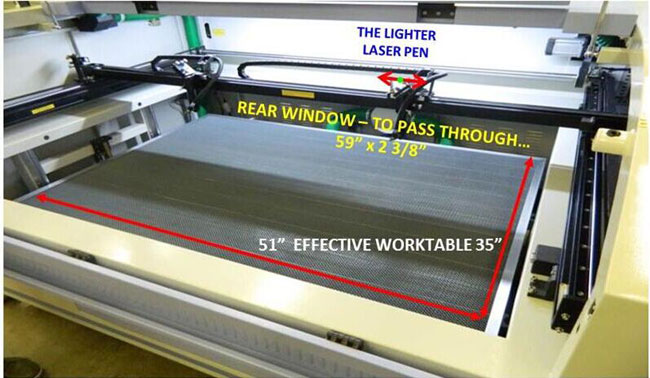 4. Single Laser Head

| | | |
| --- | --- | --- |
| | | Efficient transmission laser beam system: The perfect laser beam comes from the laser tube, the silicon mirrors reflect the 99% of the power and the American laser lens doesn't absorb power, allows the pass of energy focused in the point of work. |
5. Software and Working Control
The CM1309DH communicates via it USB 2.0 port to a computer and its control software. Similar to outputting to a printer, this makes it easy to manage various parameters such as power, speed and resolution in order to achieve the desired results. The controller software is included at no additional charge.
Formats Supported by the Software
Supports practically all standard graphic design formats: bmp, gif, jpg, pcx, cad, tga, tiff, plt, cdr, dmg, dxf and dst.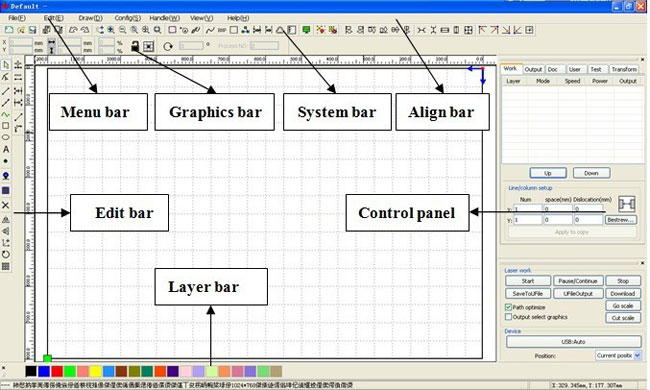 6. Laser Head X-Y-Z Axis Positioning System
Its Laser head positioning system is fast and extremely accurate thanks to its components. Its steel gantry rails and laser head movement system is made in Korea and its electronic controller motors are made in Japan.



7. Light Path System

Our laser machine has an American optics system that optimizes the focus and efficient of the laser beam on materials, allowing it to produce fine cuts or deep engravings, depending on your requirements.
This laser lens doesn't absorb power and can last for more time than others.


8. Electronic Chiller Included
Highly efficient with only minimal maintenance, the included CW5200 ELECTRONIC CHILLER regulates and controls the laser tubes temperature in the while in operation.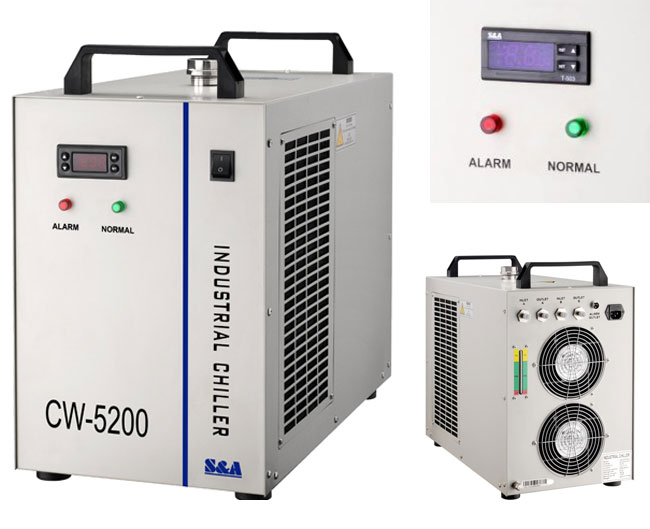 9. Exhaust Blower and Tube Included

| | | |
| --- | --- | --- |
| | | Various materials release small amounts of fumes and gases in the engraving or cutting process. To extract these fumes and gases, our CM1309 comes equipped with one exhaust system and 12 feet (4 meters) of adjustable ventilation duct tubing to be installed when the machine is being operated inside a small and enclosed area. |
10. Air Assist System

| | | |
| --- | --- | --- |
| | | This equipment comes equipped with one air compressors fix inside of machine to feed the air assist system to clear smoke & debris from the work area, cool and protect the Laser Head focusing lens, diminish the amount of flaming, scorching, charring from the work piece, and reduce the chances of ignition when it is working with flammable materials. |
11. Emergency Stop Button and Safety Sensors


An easy-to-use multilingual LCD Control Panel is incorporated as well as Potentiometers to regulate the laser tubes output, laser beam activator button.
Our laser machines are equipped with security sensors and safety features disabling the equipment in case of inappropriate use or unsafe operational conditions, as well as the ability for the machine operator to IMMEDIATELY and completely shut down the entire machine in the event such a situation or circumstances arise.

Compare with the common laser engraver and cutter, CM-1309SH has more advantages as bellow:

| | | |
| --- | --- | --- |
| LCM-CM1309SHB | | Common Machine |
| | | |
| Laser head: Enclosed | | Laser head: Unenclosed |
| | | |
| Guide rail: High precision equilibrium linear guide rail imported from Korea | | Guide rail: Chinese quality common aluminum guide rail |



1. Signs, Awards and Trophies, Furniture and Frame, Cabinets, Engineering and Architecture, Custom Crates.


2. Two 130W laser tubes and stepper motors to get faster and better cutting and engraving: Acrylic, Plastics, Wood, Plywood, MDF, Foam, Cardboard.



3. Textile and Apparel, Shoes and Leather, Labels Manufacturing, Arts, Printing.
Stepper motors to get precision, transmission system of laser beam: Silicon mirrors 99% reflection, lens from the US for a clean cutting and engraving: Leather and Chamois, Any Fabric, Push, Tulle, Laserable Metal.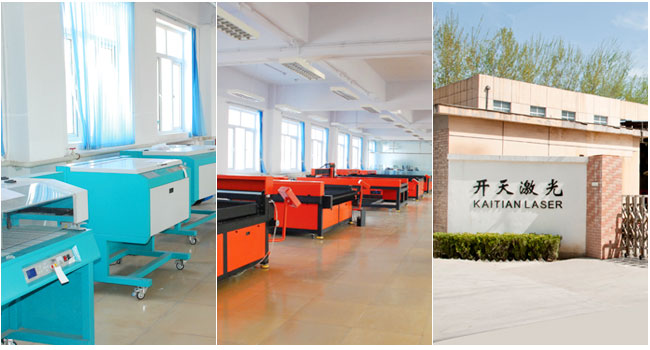 Quality Instructions: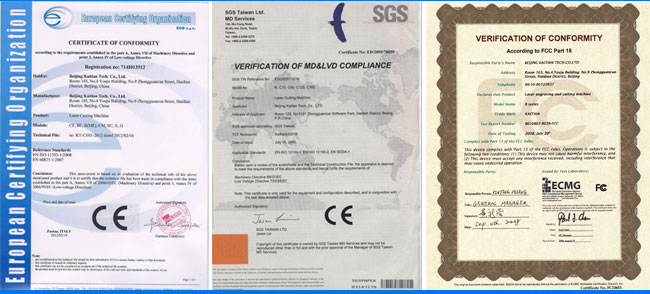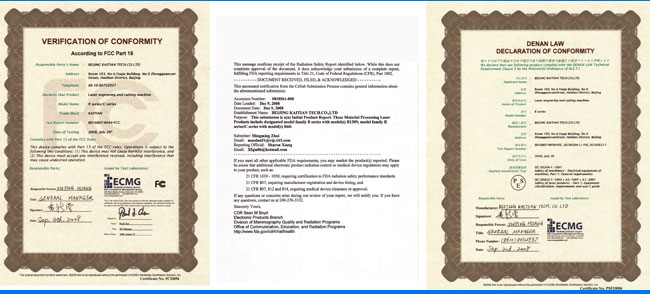 Handling - Shipping & Delivery


1. I don't know this website well, how can I trust you?

Sign-in-China.com has launched online bussiness for 6 years who already has established customers over 120 countries and areas. We are the lifelong member of ISA and SGIA, and the verified user of PayPal as well as approved by BBB certification.

Learn more about us from the following links:

19th Reklama Pholygraf Trade Fair 2012

ISA International Sign Expo 2012

Exhibition of International Trade Fair for Visual Communication, Technology and Design in Düsseldorf, 2011




Buyers say:

Jackson, Andy and David from UK

Adam Fernanders from South Africa

Adam Fernanders from Australia
2. Not clear about the Price Policy of Sign-in-China.com?

a) The Stepped Price
According to the different procurement quantities of customers, Sign-in-China.com formulates different price levels for commodity. Hence, your purchase price will be ultimately attributed to the procurement quantity.
The Stepped Prices shown on the product page is as following:


b) Trial Order Price / Sample Price
We offer free samples or some lower priced products(the product price plus shipping cost only)for our customers easily to experience our products and services from purchasing.
For details, please click:
http://www.sign-in-china.com/product/sampleproduct.html

c) Limited Time Offers
Every Tuesday Sign-in-China.com releases the latest products for Limited Time Offer, and after one week, the original price will be recovered. We sincerely expect your timely attention to the discount activities of Limited Time Offers on Sign-in-China.com.
For details, please click:
http://www.sign-in-china.com/product/discount.html

d) Flash Wholesale
Every Monday Sign-In-China.com and cooperation factory jointly campaigns the Flash Wholesale products for bulk purchase customers, and after a week, the original price will be receovered. We sincerely expect your timely attention to the preferential activities on Sign-In-China.com.
For details, please click:
http://www.sign-in-china.com/product/featuredproduct.html

e) You decide the prices for Bulk Orders
If the commodity quality you choose beyonds the quantity of fourth step price on Sign-in-China.com, or if you think the website stepped prices don't meet your bulk purchase demand, you can use our "Make Offer" service on Sign-in-China.com to fill out your planned purchase quantity and target price then submit as a Bulk Order, for which we will review and endeavor to realize the deal with you.
If you need bulk order , please enter here to Make Offer:

3. How to pay? Can I use credit card?

You may use the following methods of payment: PayPal online payment, PayPal direct payment, credit card (through PayPal gateway, some areas may be restricted), bank transfer, and Telegraphic Transfer (T/T) payment.
For details, please refer to the following:

a) PayPal online payment
https://www.paypal.com/webapps/mpp/buying-online

b) PayPal direct payment (our PayPal account: lyh@chinasigns.cn)
https://www.paypal.com/webapps/mpp/make-online-payments

c) Credit card payment (through PayPal gateway, some areas may be restricted)
https://www.paypal.com/us/webapps/helpcenter/article/?articleID=94038&topicID=11500008&m=TTQ

d) Bank transfer
https://www.paypal.com/us/webapps/helpcenter/article/?articleID=94040&topicID=11500008&m=TTQ

e) Telegraphic Transfer (T/T) payment
(1) Place an order
(2) Get the bank account information of Sign-in-China.com
(3) Make the payment at the bank, and get the Payment Receipt
(4) Send the Payment Receipt to service@sign-in-china.com
(5) Receive the Tracking Number of your order
(6) Wait for your order.

Bank transfer payment information:

BANK NAME:HONGKONG AND SHANGHAI BANKING CORPORATION LIMITED
BANK ADDRESS:ROOM 2105, BJ1038, TREND CENTRE, 29-31 CHEUNG LEE STREET, CHAI WAN, HONG KONG.
BANK SWIFT CODE: HSBCHKHHHKH
BENEFICIARY NAME: CHINASIGNS INFORMATION (HONGKONG) CO.,LTD
ACCOUNT NUMBER: 801165036838
4. Is it safe to pay online? Will it occur any security problems concerning my personal information?

PayPal, one of the faster and safer ways to pay and get paid online, has worldwide 113 million active accounts, and supports 190 markets and 25 currencies. As a result, PayPal enables global commerce. For details:
https://www.paypal.com/webapps/mpp/paypal-safety-and-security
5. Why did my PayPal payment fail?

The main reasons of failures and solutions:
a) Confirm if your credit card requires verification:
https://www.paypal.com/us/webapps/helpcenter/article/?solutionId=10568&m=SRE
b) Confirm if you have exceeded the limitation of maximum amount
https://www.paypal.com/us/webapps/helpcenter/article/?solutionId=11516&m=SRE
c) Confirm if you have any other restrictions
https://www.paypal.com/us/webapps/helpcenter/article/?articleID=94053&m=SRE
6. How can I know if it is paid successfully?

We will send you a payment confirmation email upon receiving your payment, and your purchase order in "My Account" will be categorized as "Paid". If you use check or Telegraphic Transfer (T/T) payment, we will change the status of your order until your payment confirmed , and then we will send you the conformation email.
7. How long can I receive the items?

Normally speaking, we will spend 1 or 2 days to prepare the order and if it requires longer time, we will inform you as soon as possible. The general shipping time will be 3 to 7 days. Therefore, under normal situation, you will receive the items in 4 to 9 days.
8. How to receive my order ? Is it safe during shipping?
9. How to obtain the tracking number of shipment? And how to contact the carrier (express delivery company)?

We will send you the tracking number after shipping your items, hereby please keep on checking your email.
10. How to return items and how about the warranty?

For details, please click the following links:
Changes & Returns: http://www.sign-in-china.com/info/ChangesandReturns.html
11. If I still have questions to this product, what shall I do?

Please click on the product page and submit your questions, we will reply you as soon as possible.
12. How to change my shipping address?

You can change your shipping address on the confirmation page of your purchase order.