Tel:+52(55) 55901314/55791288 Dirección:Av. Santiago No.168, Col. Barrio de Santiago Sur, Del.Iztacalco,C.P. 08800 CDMX.
Tel:+52 3311498920/3336537712 Dirección:8 de julio #556 Col. Mexicaltzingo, CP 44180, Guadalajara, Jalisco
Tel:+52(222) 2261247 Dirección:Privada Tamaulipas 417.Col el carmen CP 72530 puebla, puebla
3.2m Flatbed and Roll to Roll UV Inkjet Printer With Ricoh Gen5 head
Precio CON IVA
|
10 Transacciones
Codigo del articulo:SIT-WT-FS3208
Precio : Mex.$ 1,099,358/set (Aviso de Descuento) (Tiempo entrega 60-85 días)

Cantidad: set(s) Costo Total :

MXN

Mex.$

1,099,358

Peso de Envio: 5170.0lb (2350kg) Flete
Specification:
Model
WT-FS3208
Print width
3.2m
Printhead
Ricoh Gen 5
Number of heads
4-8
Color option
CMYK , WHITE, VARNISH(OPTIONAL)



Printing speed

Low speed 64m²/h
Medium speed 112m²/h
High speed 144m²/h
Media Type
Applicable for roll and sheet materials,mainly used in leather industry,home decoration industry,advertising industry.


Available materials:leather,KT board,wallpaper,soft film,car stickers,cloth,PVC soft film etc.

Max Print Height
100mm
RIP Software
Print factory Onxy
Curing system
LED UV water-cooling curing system
Ink type
UV ink
Operating system
Win 7 64-bit
Interface
USB

Power

Machine:AC 220V 50Hz 1000W
Adsorption platform:AC 220V 50Hz 1500W
Temperture/Humidity
Temperture:20-28℃,Humidity:40-60%
Machine size
L5400 x W2860 x H1560mm

Features:
1. Equipped with Imported Ricoh Gen5 heads.
2. Fast fiber transmission technology.
3. White ink circulation system to avoid white ink precipitating.
4. vacuum suction platform for easy operation and save energy.
5. Long-lasting UV LED lamps are safe, energy efficient and generate minimum heat.
6. Double guide are used for a stable and precise movement.

Application: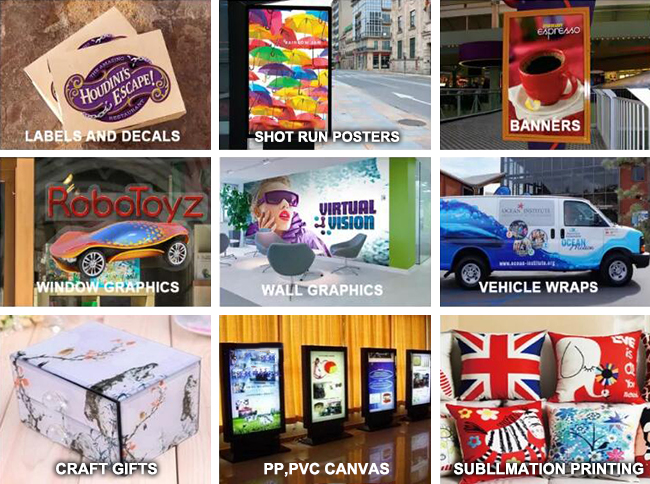 Todo
Guia
Descripcion del articulo
Envio
Pago
Otro
Envio :

Enviamos a más de 200 países y 300 puertos de todo el mundo!
Por expreso: strong> 3-5 strong> días hábiles
Por mar: strong> 20-60 strong> días hábiles
Pago:

T/TTransferencia Bancaria :

:
:
a más personas también les gusta los siguientes productos
Suscribase para obtener ofertas especiales
Recibe gratis actualizaciones, descuentos y ofertas especiales para ganar productos gratis y premios en efectivo
www.sign-in-mexico.com , es el mayor proveedor en línea de productos de publicidad en el mundo y especializados en el suministro de una solución integral para los clientes al seleccionar equipos de Publicidad, materiales de consumo articulos publicitarios, productos de publicidad, etc. También el centro de servicio en el extranjero autorizado por la Asociación China de impresión, de inyección de tinta, para lo cual hemos establecido sucursales en el extranjero, en 6 países extranjeros con el fin de brindar un mejor servicio a nuestros clientes en todo el mundo. Nuestros productos cubren todo el campo de la Publicidad y la señalización y todos los productos que suministramos se hacen de conformidad con las normas internacionales de calidad, como resultado de que, en la actualidad, tenemos más de 9000 productos en línea para la venta. Desde que implementamos la compra centralizada, todos los productos se cotizan a precios competitivos. P>