Description:
This Automatic Pneumatic Hot Stamping Foil Embossing Machine which is designed for PVC cards, such as credit cards,VIP cards,bank cards,club cards,membership cards,gift cards.Other industry usages include stamping on business card papers,soft adhesive papers, rubber,wooden products etc.
It is an ideal equipment for your individual workshop or medium-sized enterprise.The product is widely used for:Printing or hot stamping your own design,logo, pattern,leather, plastic,cloth,PVC cards,etc,with excellent stamping pressure.
Technical Parameter:
Machine function: Gold stamping+Hot pressing+Branding+Punching
Feature:Automatic foil feeding
Optional voltage: 220V/110V
Heating area:10*15cm
Working table:27x24cm
Power:500W
Temperature range: 0~400℃
Pressure:≤200KG
Stamping thickness:0~10cm
Suitable material:Leather/Wood/Plastic /Pu/ Paper/Flannelette/Bamboo.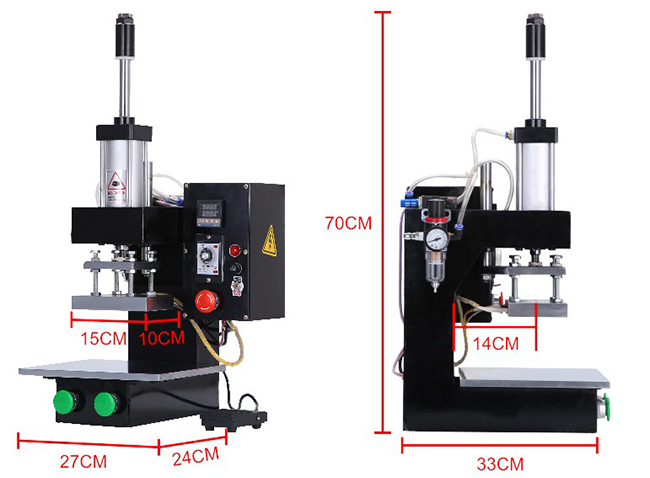 Product advantages:
1.Automatic Foil Feeding Pneumatic Hot Stamping Machine for Embossing Press
2.Digital temperature controller is Visual, accurate and easy to adjust.
3.Work bench with scale line,Locating materials are easier.
4.Easy to change the mould.
Notice:
--The machine needs to be connected to an air compressor,which should to be bought seperately.
--The material you want to stamp should be smooth,or it will lead to a bad effect.
--Availabe stamping materials:Leather/Wood/Plastic /Pu/ Paper/business card,shoe-pad,Flannelette/Bamboo and so on.
--Material size requirements:
Thickness≤10cm
Material length x width ≤28x28cm(Bigger size will lead to the problem that stamping cann't be in the material center.